1 October 2015
Steinberg chosen to design Parkside Hall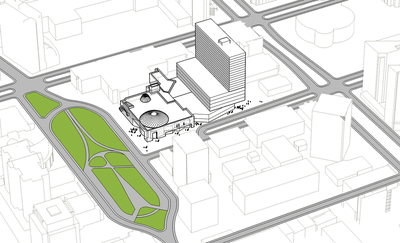 Steinberg, working with Insight Realty Co., has been selected to develop a prime downtown San Jose spot 180 Park Ave., better known as Parkside Hall. The City of San Jose chose the team's mixed-use tower proposal that combines residential, office, a hotel, and new expansion space for the Tech Museum of Innovation.
Punctuated by landscaped outdoor terrace steps wrapped in an undulating glass skin, the iconic, new 270-foot tower — dubbed Museum Place — would include 60,000 SF of expansion space for the Tech Museum on the ground floor; 210,000 SF of "creative office" on five stories above the Tech space; Twelve stories of condos; Three stories at the top for a boutique hotel, with luxury penthouse residences on the highest floor.
Download our press release below.